New Housing Development in Foster City, CA, Turns Heads
Find Your New Home in the Bay Area Today!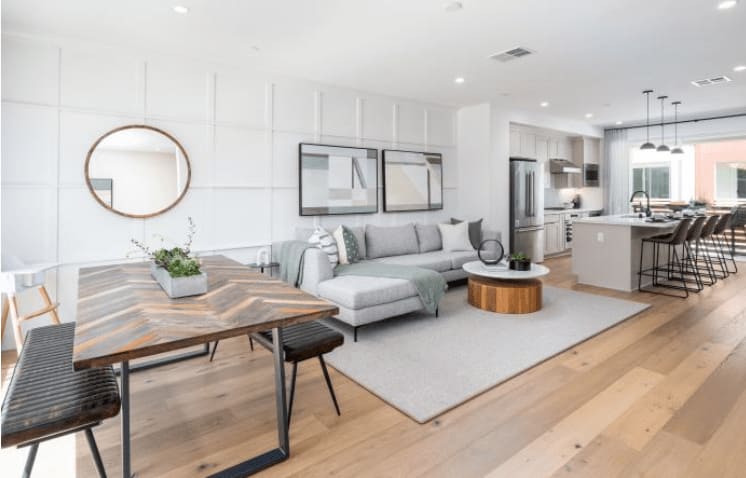 So you're looking into Bay Area real estate – for instance, a new single-family house, condo, or townhouse in Silicon Valley for your family. You're targeting new constructions near both the waterfront and one of the Bay's amazing cities, but also hope for a rich Northern California outdoor life, proximity to jobs and grocery stores and top-tier schools. Maybe you also are prioritizing a Silicon Valley green home or new building.
Think these all couldn't possibly be found in one place? Think again.
Among all the homes for sale in the Bay Area, this must be near the top in terms of both quality and convenience. Currently being built, Laguna Vista is a new construction in Foster City, CA, that is sure to interest you in your search for homes for sale in Silicon Valley. Bay Area Realtors agree that Foster City's new Laguna Vista development provides all this and more.
Built by SummerHill Homes, Foster City's new development is a short walk from the water and the beach, a few local and state parks – such as Seal Point Park, Leo J. Ryan Park, Redwood Shores State Marine Park, and Bair Island State Marine Park – and great restaurants and places to eat in Foster City. Plus, the 70-unit attached home community is a short drive from downtown San Mateo! Its location mere blocks from Highway 101 ensures that if you're working in-office, perhaps at nearby Visa, Sony Playstation, illumina, Fisher Investments, Gilead, Guckenheimer, or Rakuten, you'll have an easy way to get there on time.
Continue reading for more information on the Bay Area lifestyle, things to do in Foster City, how to tour these model homes (now open) which have been named among the best homes in Silicon Valley in 2022, and why, whether you're moving to the Bay Area or are a longtime resident, Laguna Vista could be the ideal place for you to experience the Silicon Valley lifestyle and settle down into your new Foster City, CA, home.
Location

If you're weighing where to live upon moving to the Bay Area, you can't go wrong with Foster City.
Tucked into a serene location at 565 Pilgrim Drive in Foster City, the Laguna Vista new construction graciously supplements the real estate market in the Bay Area and is causing real estate agents in Silicon Valley – as well as buyers – to go wild. In Bay Area terms, this is a cross between luxury real estate and affordable, sustainable living that will keep you close to the community.
SummerHill Homes of the Bay Area is renowned for new constructions in Silicon Valley that offer residents top-of-the-line features and amenities (in Laguna Vista's case, $60,000+ worth of them); we'll look more into Laguna Vista's features later in this post.
The Laguna Vista community is within walking distance of many restaurants and grocery stores in Foster City, including Safeway, Target, Costco, and CVS, not to mention the many local stores and markets; there's also a Whole Foods and a Trader Joe's each under three miles away in San Mateo! If you're familiar with the area, the Safeway is right across the street from Visa's Global HQ near Leo J. Ryan Park.
The area teems with hotels for visiting relatives and friends (though with the space you'll have in your new three-story townhome, it's likely you won't need a hotel!), great restaurants, and wonderful Foster City schools that will shepherd your children ably from preschool through high school. The construction is near dog parks such as Foster City Dog Park, children-friendly parks such as Sea Cloud Park and Gull Park, and well-manicured parks such as Leo J. Ryan Park. Bay Beach is a short walk (1.7 miles) away for a fun day out with family when the weather's nice!
This is the townhome community that puts other townhouses in Foster City to shame!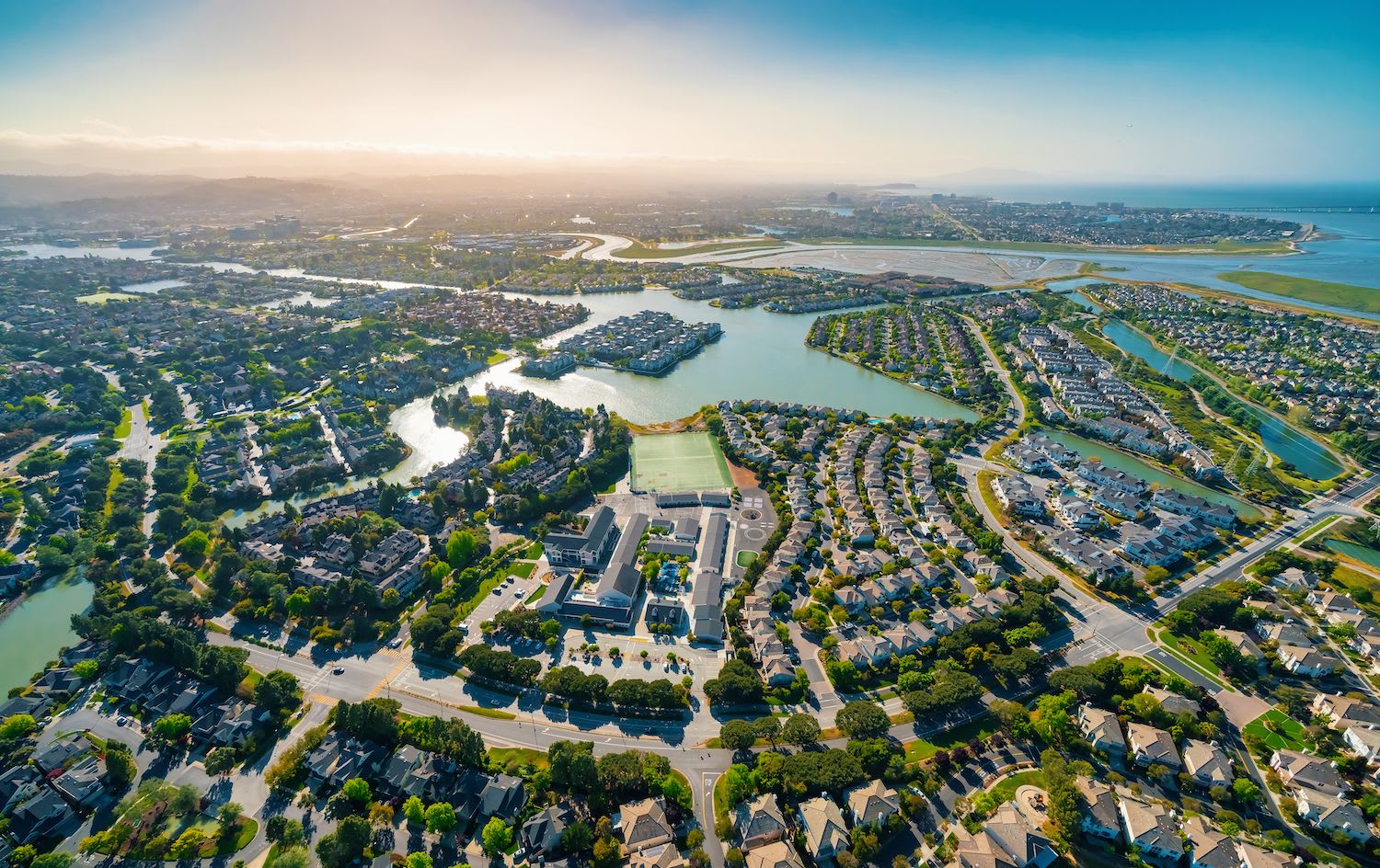 What to Do Nearby: Dining, Entertainment, Outdoor Life
The amazing part of living in Foster City, CA – and the Bay Area in general – is the abundance of activities available to you. Foster City is located particularly favorably between San Francisco and San Jose, on the water and, like much of the Bay Area, within driving distance of beautiful hiking trails cross-cutting the Santa Cruz mountains.
Head from your newly built Bay Area townhouse to the beach! You're a short walk from both Belmont Slough Beach and Bay Beach, so take advantage of your new home and maximize your exposure to local Foster city attractions. These beaches are often less-visited than others around the Bay, so on some days and at the right time you may be left alone in nature – quite a rarity in such a densely populated area. You can also swim in Foster City Lagoon, the unique water system that acts as Foster City's private body of water (yes, you can swim in the lagoon). A short drive from your townhome will take you north across the freeway to Seal Point Park, another beautiful locale where you can unwind alone or with family and friends. Coyote Point Park in San Mateo is another wonderful option for outdoor recreation in Silicon Valley.
Driving five minutes across the freeway will take you into San Mateo, a California city famous for its long history, quaint downtown area, and booming real estate market. A visit to San Mateo on the weekend could include, among other things, a stroll downtown, a walk through Central Park and the Japanese Tea Garden, a stop at the Louis Macouillard mural, and a trip to the Bay Meadows horse-racing track. Play golf at Peninsula Golf & Country Club (members only) or picnic in Laurelwood Park! The dining options in San Mateo are magnificent as well.
Driving ten miles will take you into the foothills of the Santa Cruz Mountains. This quick trip takes you to locations such as Gate Vista Point, Pulgas Water Temple, and Filoli Historic House & Garden. Driving a bit farther down SR-92 and SR-35, twenty minutes total, will take you into the mountains. Stop in Redwood Park and hike the Purisima Creek North Ridge Trail or the Summit Springs Trail. Go a bit farther, to Kings Mountain, and hike the Fir, Tafoni, and Methuselah Trails to see Vista Point, Tafoni Sandstone, and the Methuselah Tree, respectively.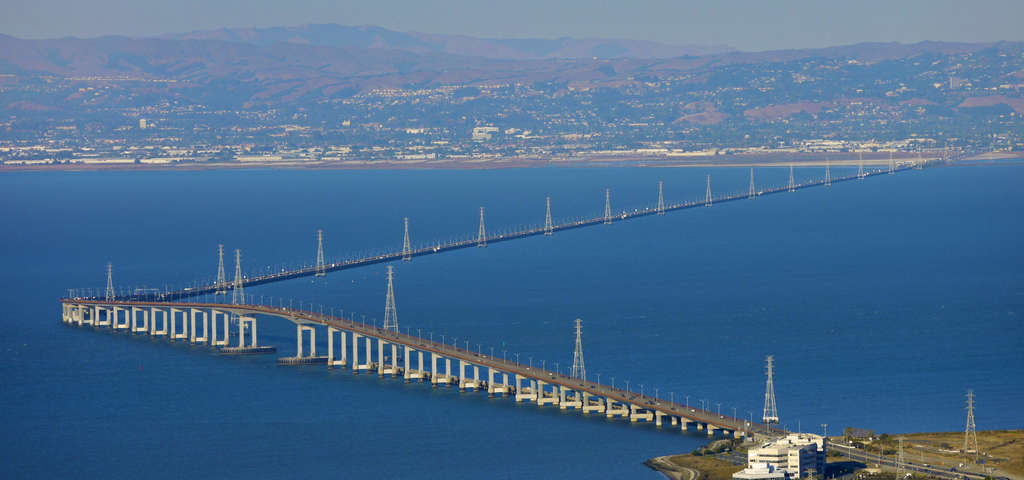 Laguna Vista's proximity to the San Mateo Bridge allows for a quick jump across the Bay into Hayward and Fremont, where you can visit a number of parks, country clubs, nature preserves, hiking trails, and more.
And don't forget the cultural hubs of San Francisco and San Jose. Arts, museums, dining, and entertainment opportunities abound. If you like sports, catch a Sharks or Earthquakes game in San Jose or stop by Levi's Stadium to see the 49ers play. Not to mention the 2022 NBA Champions, the Golden State Warriors, who play at the Chase Center in San Francisco, or either of the area's MLB teams, the Oakland Athletics and San Francisco Giants. Downtown San Francisco is a mere 21 miles from Laguna Vista, 35 minutes by car or an hour by public transportation – close enough to be an easy trip, far enough so that you're shielded from the noise and bustle. And unlike most of California, the Bay Area counts public transportation as one of its strengths.
All of these reasons and more are why Foster City locals love living where they live and why many of those who don't live there are clamoring to move. With that in mind, Laguna Vista provides a significant opportunity for those living in Silicon Valley and moving to the Bay Area who are considering where to live to upgrade their lifestyle and plant roots somewhere good.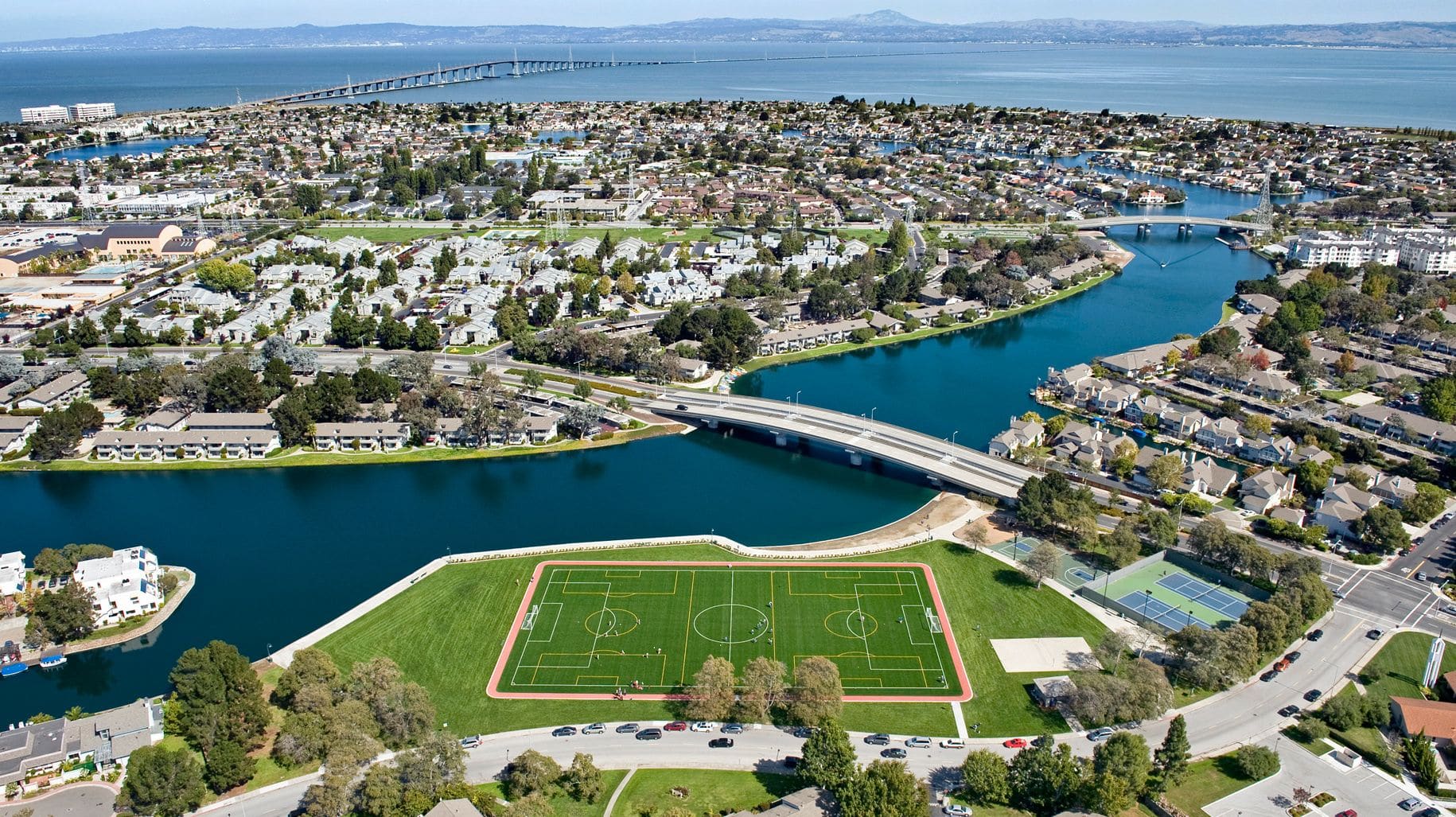 Schools
Local schools include:
All Are Friends Montessori (PreK, K)

Audubon Elementary

Brewer Island Elementary School

Foster City Elementary School

Kids Connection Elementary School

Ronald C. Wornick Jewish Day School (Private)

Futures Academy - San Mateo (Private)

Bowditch Middle School

Bayside Academy

San Mateo High School
The San Mateo - Foster City School District is considered a strong one, and there are an abundance of public and private options in Foster City and San Mateo to ensure your children receive the best possible preparation for college and beyond.
The Building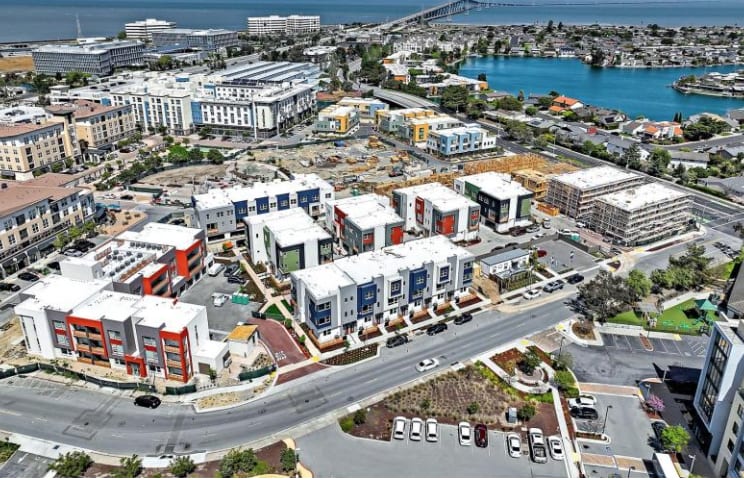 Located within the Pilgrim Triton master plan, Laguna Vista offers 70 attached homes with 1-4 bedrooms and 1.5-3.5 bathrooms, ranging from 1,436 to 2,239 square feet. Available units at Laguna Vista range from $1,388,000 to $2,128,000 and are all tri-level.
The majority of Laguna Vista's townhomes are three- or four-bedroom units. The buildings' exteriors are made of bold-palette stucco and fiber cement siding, accented with wood balcony railings. These homes are aesthetically pleasing and efficiently made. Imagine stepping out your door onto a paseo lined with street frontages on one side and abutting a park on the other; imagine the walkability and neighborhood feeling you'd get in such a place. Now imagine turning the corner towards the grocery store and walking along a well-manicured canal as the sun sets.
In the community park nearest to Laguna Vista – and at the edge of which Laguna Vista sits – find a tot-lot, bocce ball courts, and shaded seating areas. You'll be in the heart of Foster City, within walking distance of canals within the Foster City Lagoon waterway, stores, and the nature afforded by the Bay Area.
As mentioned, this community offers a great commuter location close to Highway 101, excellent schools, and close proximity to charming downtown San Mateo, all conveniently located near top employers like Visa, Gilead Sciences, Sony Playstation, Illumina, Fisher Investments, Guckenheimer, and Rakuten.

Features & Add-Ons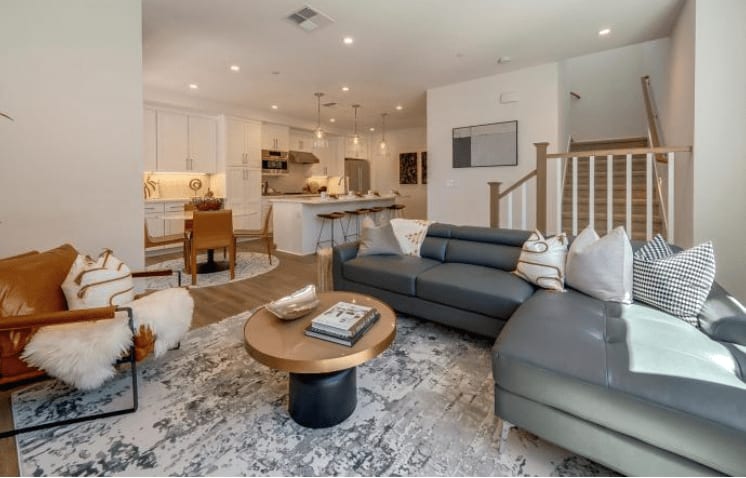 This attached-home development offers seven different floor plans. Each home has either a two-car garage or side-by-side garages, plus outdoor decks.
The HOA is estimated at $452 monthly, to cover common area landscaping, maintenance on private streets, the barbecue area, exterior/roof maintenance, and building insurance. Critically, the insurance policy is "walls in." Maintenance of the fire sprinkler system and professional HOA management are also included. A 3% deposit is required by prospective buyers.
Sample Floor Plan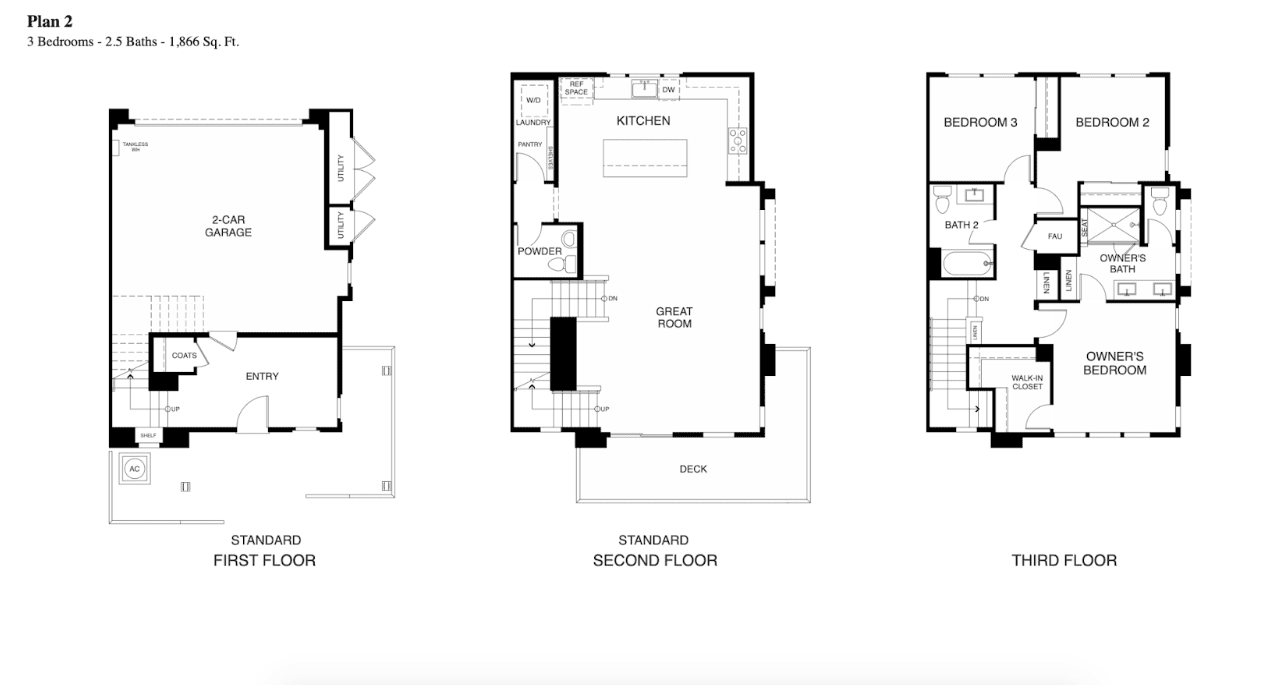 Here's a sample floor plan for a three-bedroom unit. All bedrooms and two of the bathrooms are on the top floor; a half-bath powder room, in which are the in-unit washer and dryer, abuts the kitchen. The floor plan is an open one, as you'll see from the pictures and in the video above.
Even the smallest floor plans in the Laguna Vista community, owing to their open plan and ample outdoor space, feel (and are) spacious. Visit the developer's website to see more photos and floor plans.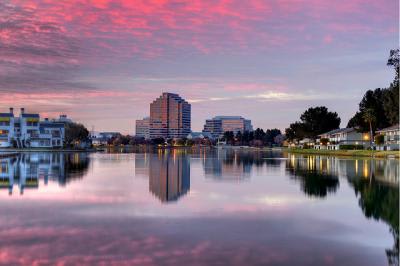 Buy Today
Laguna Vista includes 7 one-bedroom, 13 two-bedroom, 6 three-bedroom, and 44 four-bedroom units. TWENTY of the seventy units have been sold already! Don't miss your chance to change your life for the better by moving into a new single-family home in Foster City. Look on Zillow at the homes for sale in Foster City – you'll be hard-pressed to find such a combination of location, amenities, recent construction, and community living elsewhere! Team up with Spencer Hsu, Your Tech Realtor and a listing agent for Laguna Vista through SummerHill Homes, to book a tour of one of the model units today! Contact Spencer at (408) 547-4590 to book your tour!